Little Kim, played by Kim Fields in the episode "Snow Storm"
Personal Information
Gender:
Female
Age:
8-9 years old
Character
description:
School bus mate of Penny's, whom Florida, now their bus driver, drives to school
Character information
Appeared on:
Good Times
Episodes appeared in:
2 in Season 6
Character played by:
Kim Fields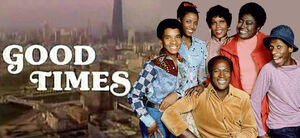 Kim, a friend of Penny, appeared in two Season 6 episodes, "The Snow Storm" and "The Physical". The part of Kim is played by Kim Fields, who would become well known to TV sitcom series viewers for her roles as Tootie Ramsey on the NBC-TV sitcom The Facts of Life, and as Regine Hunter on the Fox sitcom series Living Single.
About Kim
Edit
In the episode "The Snow Storm", when Florida's school bus stalls and gets stranded in the midst of a big blizzard, she, Penny, and another schoolmate, Alex (Anthony Thompkins) are forced to try to find shelter as they find a condemed building, as they try to keep warm in the building, Florida finds the last of a book of matches; as they fail to get the match to make a fire, Kim frighteningly laments "We're going to die of frostlessness!"
Ad blocker interference detected!
Wikia is a free-to-use site that makes money from advertising. We have a modified experience for viewers using ad blockers

Wikia is not accessible if you've made further modifications. Remove the custom ad blocker rule(s) and the page will load as expected.