Kim Fields appears twice on "Good Times' as little Kim, a friend of Penny's, in Season 6.
Personal Information
Birth name:
Kim Victoria Fields
Also known as:
Kim Fields Freeman
Kim Fields Morgan
Born:
May 12, 1969
Birthplace:
New York, New York, U.S.
Career/Family Information
Occupation/
Career:
Actress, Model, singer, director
Years active:
1977–present
Spouse(s):
Johnathon Franklin Freeman (1995–2001)
Christopher Morgan (2007–present)
Children:
2
Character information
Appeared on:
Good Times
Character played:
Kim in "The Snow Storm" and "The Physical" in Season 6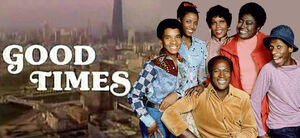 Kim Fields (born May 12, 1969) appeared in two episodes of Good Times as Kim, a friend of Penny, in two Season 6 episodes. She is best known for her roles as Tootie Ramsey on the NBC-TV sitcom The Facts of Life, and as Regine Hunter on the Fox sitcom series Living Single. She is the daughter of actress/director Chip Fields.
Acting Career
Edit
Before appearing on Facts of Life, Kim co-starred in a short-lived CBS-TV sitcom called Baby, I'm Back with Demond Wilson and Denise Nicholas, and appeared in a television commercial for Mrs. Butterworth's pancake syrup. She later appeared on Good Times as Kim, a friend of Penny Gordon Woods. Her real-life mother, Chip Fields, guest-starred on Good Times in a recurring role as Lenela Gordon, the mother of Penny. Chip and Kim never appeared in the same episodes. Kim's episodes on Good Times were "The Snow Storm" and "The Physical" in Season 6.
Kim played the role of Tootie on the sitcom The Facts of Life from 1979 to 1988. Even decades later, many still recognize her catchphrase, "We're in troouu-ble!" When the show began production, Fields was so short that the producers put her on roller skates during the first season so that they could avoid difficult camera angles. Ironically, she later lost a role as Arnold Jackson's girlfriend on The Facts of Life's parent show Diff'rent Strokes because she was taller than Gary Coleman, who played Arnold.
Family/Personal life
Edit
Her real-life mother Chip Fields portrayed Diane Ramsey, Tootie's mother, on Facts of Life as well as playing Regine's mother on Living Single.
After taking time away from acting to attend Pepperdine University, she had a starring role in the hit Fox sitcom Living Single from 1993 to 1998 as Regine Hunter.
Fields guest-starred on television series such as One on One, The Golden Palace, and appeared as herself on HBO's The Comeback.
On February 1, 2007, Fields was reunited with Lisa Whelchel on WFAA-TV's Good Morning Texas. Fields was in Dallas to promote her appearance in the production Issues: We've All Got 'Em when Whelchel was introduced as a surprise guest. It marked the first time in six years (since The Facts of Life Reunion movie) that Fields and Whelchel had seen each other.
Fields also appeared in an episode of The Fresh Prince of Bel-Air, in which Will Smith pretended to marry her in an attempt to seduce her.
External links
Edit
Ad blocker interference detected!
Wikia is a free-to-use site that makes money from advertising. We have a modified experience for viewers using ad blockers

Wikia is not accessible if you've made further modifications. Remove the custom ad blocker rule(s) and the page will load as expected.