Personal Information
Gender:
Male
Birthplace:
New York City, New York, U.S.
Died
April 22, 2009
(aged 62)
Deathplace:
Encino, California, U.S.
Spouse(s):
Jody Legrende, 1980-2009, his death
Career information
Occupation/
Career:
Screenwriter/Producer
Years active:
1977-1997
Series involved with:
Good Times
Job on series
Writer, incl. teleplay/story, 6 episodes, Seasons 4 & 5
Story editor, 24 episodes in Season 5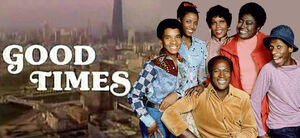 Kim Weiskopf (born April 10, 1947 - died April 22, 2009) was a television writer and producer, whose credits included Three's Company, Married... with Children, One Day at a Time, The Jeffersons and Good Times for which he had a hand in writing six episodes, and also served as story editor for 24 more episode in Season 5. Kim was the son of late fellow TV producer/writer/director Bob Weiskopf.
Kim's solo writer-producer credits include Rachel Gunn, R.N., Full House, and Married... with Children, on which show he also supplied the voice of the Bundy family's dog, Buck.
Weiskopf's enormously successful writing and producing career - much of it with longtime writing partner Michael S. Baser - spanned from 1972 with Rod Serling's radio show, The Zero Hour, to Good Times, to Three's Company in the 1970s, to What's Happening Now!!, and to Married... with Children in the 1980s and early/mid 1990s.
Education
Edit
He moved to Los Angeles with his family at the age of five and attended Grant High School in Van Nuys, and San Francisco State University.
He died from pancreatic cancer on April 22, 2009 at the age of 62. He was survived by his wife of 29 years, Jody and daughter Kate Weiskopf.
External links
Edit
Ad blocker interference detected!
Wikia is a free-to-use site that makes money from advertising. We have a modified experience for viewers using ad blockers

Wikia is not accessible if you've made further modifications. Remove the custom ad blocker rule(s) and the page will load as expected.