Personal Information
Gender:
Male
Career/Family Information
Occupation/
Career:
Actor
Years active:
1974-1979
Character information
Appeared on:
Good Times
Character played:
Bruno in 3 episodes, Season 6
Unnamed Hood in two episodes, Season 2 and Season 6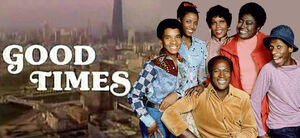 Larry Greene, appeared in an uncredited role as Bruno one of two hulking goons/bodyguards who always accompany Sweet Daddy Williams around Chicago, including visits to the Evans' apartment in the episodes "Florida's Homecoming: Part 2" and "Florida's Homecoming: Part 3, The Wedding". Larry also appears credited as an unnamed hood in three more episodes, firstly in Sweet Daddy Williams's first series appearance in the so-named episode "Sweet Daddy Williams" in Season 2, "Florida's Homecoming: Part 4, United We Stand" and "Blood Will Tell" in Season 6.
In addition to his Good Times appearances, Larry also appears as Jimmy Rush in the 1974 blaxploitation/action flick Baby Needs a New Pair of Shoes. [1]
References
Edit
External link
Edit
Ad blocker interference detected!
Wikia is a free-to-use site that makes money from advertising. We have a modified experience for viewers using ad blockers

Wikia is not accessible if you've made further modifications. Remove the custom ad blocker rule(s) and the page will load as expected.