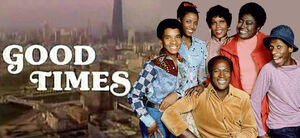 Lena Anderson-Evans appears as the finacee, then the new wife of Henry Evans, father of James. she appeared in the episodes "Grandpa's Visit" in Season 4 and "Something Old, Something New" in Season 5. The part of Lena was played in the episodes by veteran stage, film and TV actress Paulene Myers.
About Lena and Henry
Edit
When Grandpa Henry visits the Evans a second time in "Grandpa's Visit", Lena, who affectionately refers to him as "Tiger", accompanys him. The two, who just began seeing each other, are apparently living together also; when they go to sleep together in Michael and J.J's room, it kind of rubs Florida the wrong way, as she has hangups about the prospect of the two shacking up together, as well as them sleeping in the same bed together on their visit, as the two, not wanting to offend Florida, plan to leave. As Henry and Lena wait for their bus, Florida has a change of heart and invites the two back to their apartment to enjoy Thanskgiving dinner with the family!
When the two visit in "Something Old, Something New", Grandpa Henry and his now fiancee Lena Anderson, who accompanys him in his visit to the Evans's apartment again, has a hard time understanding Henry's reasoning in that he wants to postpone their upcoming marriage, this over concerns that the two would struggle on Social Security together, as the U.S. Patent office turned down his latest invention; a food compresser.
Lena reassures Henry, when he arrives back at the apartment just minutes before their wedding is to start, having had one too many to drink at a nearby bar, she reassures him that she was not trying to marry him for money, as she jokingly says in a funny scene in the bedroom, "If you think I'm marrying you for your money, you couldn't be wronger...Now if we can't make it on Social Security, I could always get a job as a topless dancer!"
Ad blocker interference detected!
Wikia is a free-to-use site that makes money from advertising. We have a modified experience for viewers using ad blockers

Wikia is not accessible if you've made further modifications. Remove the custom ad blocker rule(s) and the page will load as expected.