Lester Wilson
Personal Information
Gender:
Male
Birthplace:
New York City, New York, U.S.
Deathplace:
Los Angeles, California, U.S.
Career/Family Information
Occupation/
Career:
Dancer/Choreographer and Actor
Character information
Appeared on:
Good Times
Character played:
Mr. Gage in "Florida's Protest" (Season 3)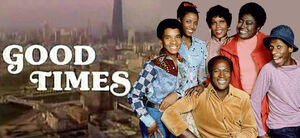 Lester Wilson (born April 12, 1942 - died February 14, 1993) was an African-American dancer, choreographer, and actor. He makes a guest appearance on Good Times as duplicitous supermarket manager Mr. Gage, who has Florida, who leads a protest of the poor quality of the meats and produce in the market, arrested along with the protesters in the Season 3 episode "Florida's Protest".
Lester, who attended the Juilliard School, was cast by Broadway director Bob Fosse in a 1963 revival of Pal Joey at the New York City Center. Wilson toured London with Sammy Davis, Jr. in Golden Boy, also choreographed the 1984 movie, Beat Street.
Lester's best known choreography was the 1977 movie Saturday Night Fever for which he coached John Travolta. Wilson had choreographed for Diana Ross, Dalida, Gladys Knight, Billy Crystal, Liza Minnelli and Ann-Margret, in her Las Vegas stage spectaculars. He also choreographed "The Wiz".
In 1991, Wilson was nominated for an Emmy Award for the choreography in the ABC special American Dance Honors. Lester also choreographed several Broadway musicals, including Grind with Ben Vereen.
In February 1993, Wilson died of a heart attack brought on by complications from AIDS in Los Angeles at the age of 50. Michele Simmons, a former high school classmate and friend, was the executor of his estate. Wilson was a major contributor to the fight against AIDS, notably in choreography created for AIDS Project/L.A. He had previously undergone a quintuple bypass in 1979 at the age of 37. [1]
References
Edit
External links
Edit
Ad blocker interference detected!
Wikia is a free-to-use site that makes money from advertising. We have a modified experience for viewers using ad blockers

Wikia is not accessible if you've made further modifications. Remove the custom ad blocker rule(s) and the page will load as expected.