Loretta, played by Mary Alice, with Florida in scene from the episode "The Baby" in Season 3.
Personal Information
Gender:
Female
Occupation/
Career:
Not Mentioned
Character
description:
Decides to keep her baby, after she goes into labor and gives birth to the newborn in the Evans' apartment
Character information
Appeared on:
Good Times
Episodes appeared in:
"The Baby" Season 3
Character played by:
Mary Alice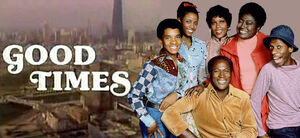 Loretta is a character who appears in the Season 3 episode of Good Times titled "The Baby". The part of Loretta is played in the episode by Mary Alice.
About Loretta
Edit
Loretta, another neighbor and friend of Florida and Willona, who is expecting the birth of her baby, at first plans to put the child up for adoption, because with her becoming a single mom with a low-wage job, would be too much of a strain on her.
When she goes into labor in the Evans' apartment, Florida and Willona, with the help of Thelma, are able to take her into Thelma's room to have the child; after she gives birth and sees her newborn son, she has a change of heart and decides to keep the baby.