Veteran TV/film actor Louis Gossett, Jr. made two guest appearances on "Good Times", in different roles.
Personal Information
Gender:
Male
Born:
May 27, 1936
Birthplace:
Brooklyn, New York, U.S.
Career/Family Information
Occupation/
Career:
Actor, Voice actor, Director, Screenwriter and Producer
Character information
Appeared on:
Good Times
Character played:
Donald Knight in "Thelma's Young Man" (Season 1)
Uncle Wilbert in "Michael's Big Fall" (Season 3)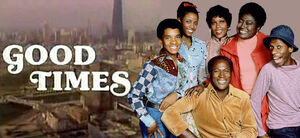 Louis Gossett, Jr. (born May 27, 1936) made two guest appearances on Good Times; first as Donald Knight, a new boyfriend of Thelma's who's closer to James's age in "Thelma's Young Man" in Season 1 and then as Uncle Wilbert, Florida's younger brother, in "Michael's Big Fall" in Season 3. Louis is perhaps best known for his role in the 1982 Oscar-Winning film An Officer and a Gentleman, and his role as Fiddler in the 1977 Emmy Award-winning ABC-TV miniseries Roots (Alongside John Amos).
Lou is also well known for his role in the Iron Eagle film series. Gossett stepped into the world of cinema in the Sidney Poitier vehicle A Raisin in the Sun in 1961.
Since his film debut, Gossett has starred in numerous film productions such as The Deep, An Officer and a Gentleman, Jaws 3-D (as SeaWorld manager Calvin Bouchard), Enemy Mine, the Iron Eagle series, Toy Soldiers and The Punisher. His role as Gunnery Sergeant Emil Foley in An Officer and a Gentleman, where he appeared opposite Richard Gere and Debra Winger showcased his talent and won him an Academy Award for Best Supporting Actor. In 1986, he starred in another role as a military man in the film Iron Eagle with bodybuilder/actress Rachel McLish. It was followed by three sequels.
Gossett's Broadway theatre credits include A Raisin in the Sun (1959), Golden Boy (1964), and Chicago (2002).
Television
Edit
He also has performed in other media, including television productions. His Emmy award-winning role of "Fiddler" in the 1977 groundbreaking television miniseries Roots first brought Gossett to the audience's attention. In 1983, he was cast in the title role in Sadat, a miniseries which chronicled the life and assassination of Anwar Sadat. While filming An Officer and a Gentleman, Gossett was also starring in the 1982–1983 NBC-TV science fiction series, The Powers of Matthew Star. He also played the role of US President Gerald Fitzhugh in the movie Left Behind: World at War.
Other work
Edit
Gossett is the voice of the Vortigaunts in the video game Half-Life 2 (although he did not return for a later installment in the series, "Half-Life 2: Episode Two") and is also the Free Jaffa Leader (Gerak) in Season 9 of Stargate SG-1. He also provides the voice of Lucius Fox in The Batman. He recorded several commercials for a Nashville-based diabetic company, AmMed Direct, LLC.
In 1997 Lou presented When Animals Attack! 4, a one hour special on Fox.
He also co-wrote the antiwar folk song "Handsome Johnny" with Richie Havens.
External links
Edit