Mary Alice
Personal Information
Birth name:
Mary Alice Smith
Born:
December 3, 1941
Birthplace:
Indianola, Mississippi, U.S.
Career/Family Information
Occupation/
Career:
Actress
Years active:
1970–present
Character information
Appeared on:
Good Times
Character played:
Loretta in "The Baby" (Season 3)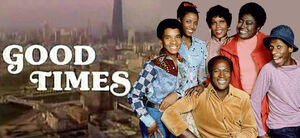 Mary Alice (born Mary Alice Smith December 3, 1941) appears on Good Times as Loretta, a friend and neighbor of Florida and Willona who goes into labor ant then has her child in the Evans' apartment in the Season 3 episode titled "The Baby".
Life and career
Edit
Born and raised in Indianola, MS, Mary had a yen to act and began her career on stage in her hometown.[1]
Alice has appeared in over 50 television shows and feature films during her career. She made her screen debut in 1974 film The Education of Sonny Carson, and later guest-starred in Police Woman and Sanford and Son. She played Ellie Grant Hubbard on soap opera All My Children in the early 1980s, and co-starred in A Different World as Leticia 'Lettie' Bostic from 1988 to 1989.
In 1987 she received a Tony Award for Best Featured Actress in a Play for her work in Fences. She also won an Emmy Award for Outstanding Supporting Actress in a Drama Series in 1993 for I'll Fly Away (1991–1993). Her other film credits include Malcolm X (1992), The Inkwell (1994) and Down in the Delta with Alfre Woodard.
In 2000, Alice was inducted into the American Theatre Hall of Fame.[2]
Mary resides in Los Angeles.
References
Edit
External links
Edit
Ad blocker interference detected!
Wikia is a free-to-use site that makes money from advertising. We have a modified experience for viewers using ad blockers

Wikia is not accessible if you've made further modifications. Remove the custom ad blocker rule(s) and the page will load as expected.