Michael Moye, co-creator of Married... with Children, wrote or co-wrote 9 episodes of Good Times

Personal Information
Born:
August 11, 1954
Birthplace:
New Haven, Connecticut, U.S.
Spouse(s):
Rose Jackson Moye (1996-present)
Career information
Occupation/
Career:
TV show writer, producer, director, and photographer
Known for:
also served as writer for "The Jeffersons", "Diff'rent Strokes", "227", and "Silver Spoons", amongst other TV projects
Series involved with:
Good Times
Job on series
writer / co-writer, 9 episodes, Seasons 5 & 6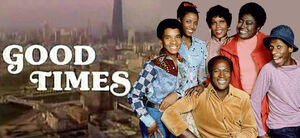 In his television career Michael Moye (born August 11, 1954) wrote or co-wrote a total of nine episodes of Good Times in the last two seasons of the series, beginning with the Season 5 episode titled "Willona, the Other Woman".
Michael has written for shows such as The Jeffersons, Diff'rent Strokes, Good Times, and 227 and also produced It's Your Move and The Jeffersons. His best known work is likely with Married... with Children, created alongside Ron Leavitt for the fledgling FOX TV network.
The co-creator and early writer of MWC with Ron Leavitt, Michael essentially left television altogether when he left the series in 1992.
Early career
Edit
Moye began his career in 1977 with a staff writing position on Good Times. Between 1979 and 1984 he wrote for The Jeffersons, and in 1982 he co-developed Silver Spoons, which ran for five seasons. He also co-developed both It's Your Move and 227, the latter under an assumed name.[1]
Married... with ChildrenEdit
Married... with Children, created by Michael and Ron Leavitt in 1987 for the FOX network, was called an "anti-family" series,[2] but immediately became a hit, running for eleven seasons and being credited with keeping the fledgling Fox network "in the black for five or six years."[3] Moye was a producer and a writer on the show for most of its run, and had a hand in writing a series-leading 25 episodes[4] as well as having a few cameo appearances on screen.[5]
Personal Life
Edit
Moye retired from television altogether in 1995 and is now a photographer as well as an avid coral reef aquarium hobbyist.
References
Edit
External Links
Edit
Ad blocker interference detected!
Wikia is a free-to-use site that makes money from advertising. We have a modified experience for viewers using ad blockers

Wikia is not accessible if you've made further modifications. Remove the custom ad blocker rule(s) and the page will load as expected.