Supervisor, Security department, Marshall Field's store, Chicago, IL
Personal Information
Gender:
Female
Character
description:
Reprimands Willona for allowing a potential shoplifter to go, before she finds out that she is also being "watched" by her boss
Character information
Appeared on:
Good Times
Episodes appeared in:
"Willona, the Fuzz" (Season 5)
Character played by:
Conchata Ferrell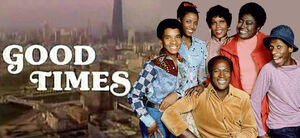 Miss Johnson, Willona's supervisor on a short-lived security job at a department store, appears in the Season 5 episode of Good Times titled "Willona, the Fuzz". the part of Miss Johnson is played in the episode by Conchata Ferrell. 
About Miss Johnson
Edit
After Willona accepts a house dectective position in the security department at the department store where she works as a boutique section clerk (the store is presuambly a Marshall Field's store) which she applied for, part of her job requires her to constantly spy on her to make sure Willona is doing her job watching, through a hidden two-way mirror which connects to video cameras installed in the dressing room stalls of the store, for possible shoplifters, which means, she also has to contend with Miss Johnson, her supervisor, who, as part of her job, has to constantly snoop on Willona the same way, through a similar camera installed in the security camera video room, assuring that she is doing her job!
The constant snooping around and spying on potential customers really bothers Willona, who lets Miss Johnson, who wondered why she let a woman go who was actually trying to shoplift some , know about it, describing some of the other people which she watched, a college student who had on worn underwear, a nun who was trying on a slip and a skinny lady with "falsies", which she says "If her hair dresser doesn't know for sure, why should I?", as Willona says "When I go home to undress, I pull down the shades...and I don't want nobody watching me there...and I don't want nobody watching me here!" When Miss Johnson says that she doesn't understand Willona asying "I thought you got this job because you wanted a little extra money for your little girl?", as she attempts to fire her, as Willona says, "You can't fire me, because I quit!"
Turns out that the department store has a problem with trust issues, as Miss Johnson was also being "watched" by a Mr. Rogers (Gordon Jump) the head of the security in the store!
Ad blocker interference detected!
Wikia is a free-to-use site that makes money from advertising. We have a modified experience for viewers using ad blockers

Wikia is not accessible if you've made further modifications. Remove the custom ad blocker rule(s) and the page will load as expected.