Duplicitous supermarket manager Mr. Gage, (Lester Wilson) getting forced to taste some of his product, a leftover roast beef dinner from the Evanses, in "Florida's Protest" in Season 3.
Personal Information
Gender:
Male
Occupation/
Career:
Manager, Borgan's Supermarket, NW Chicago
Character
description:
Duplicitous store manager who does little about the poor quality of the meat and produce sold in his store; poses as a friend to his customers, which include the Evans, while kissing up to his boss, the market's owner
Called the police to break up a protest of the customers, led by Florida and Willona
Character information
Appeared on:
Good Times
Episodes appeared in:
"Florida's Protest" (Season 3)
Character played by:
Lester Wilson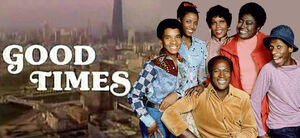 Mr. Gage, the manager of Borgan's Supermarket, appears in the Season 3 episode of Good Times titled "Florida's Protest". The part of Mr. Gage is played in the episode by Lester Wilson.
About Mr. Gage
Edit
When a roast beef dinner makes the entire Evans household come down with food poisoning, an outraged Florida gathers her neighbors together and organizes a boycott of the market that sold her the tainted food. Mr. Gage, who witnessed the protesting outside his office window in the supermarket, he calls the police, then talks to Mr. Borgan, the supermarket owner, assuring that everything was under control, telling him that he called the police and they "smoothed things out".
Moments later, James and Florida, who thought enough of the market's poor quality of food to pay him a visit to voice their complaint, enter his office as he puts on a front as if he was "on their side" as he told them. An unpersuaded, angry James threatens him, saying "Look here, man, you better shape this store up, or they going to find you stretched out all the way from frozen foods to canned goods!" as he then asks him angrily Is you hip! ... then say you hip!"as he slams his fists on his desk before they leave the office"
Florida, who tried to get James to apologize for his outburst, decides to try to apologize for him; as she sets to reenter his office, she witnesses Gage's duplicity as he is again on the phone with his boss Mr. Borgan saying that he got rid of them, being the Evanses, "real quick"!
Instead of James making good on his threat to Gage to stretch him out about the frozen foods section, they devise another idea to bring a little dinner gift for Gage to pose as if they were apologizing for their angry visit the other day, as still had some leftover roast beef from the other night. This time, they brought along a friend, Mr. Coggins, supposedly from the "Food Administration Office".
As they reveal the true nature of their return visit, and that the dinner gift they brought contained meat from the supermarket he tries to make an excuse not to eat the dinner, when Coggins prepares to eat it himself, Gage abruptly stops him, and reluctantly takes a bite of the roast beef himself, as the Evanses get "revenge" on his duplicitousness in interacting with them, as well as the bad food items in the store!
Ad blocker interference detected!
Wikia is a free-to-use site that makes money from advertising. We have a modified experience for viewers using ad blockers

Wikia is not accessible if you've made further modifications. Remove the custom ad blocker rule(s) and the page will load as expected.