Mrs. Dobbs in the episode "My Girl Henrietta" in Season 2.
Personal Information
Gender:
Female
Occupation/
Career:
Social worker, Cook County (IL) Social services
Character
description:
Almost refuses to process the adoption papers of Penny when Bookman tries to help by posing as Willona's husband
Character information
Appeared on:
Good Times
Episodes appeared in:
"The Evans Get Involved: Part 4" (Season 5)
"Penny's Christmas" (Season 5)
Character played by:
Alice Ghostley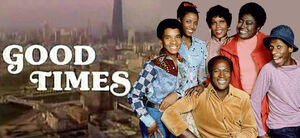 Mrs. Dobbs, a social worker, appears in the Season 5 episode of Good Times titled "The Evans Get Involved: Part 4". The part of Mrs. Dobbs is played by Alice Ghostley.
About Mrs. Dobbs
Edit
In the episode "The Evans Get Involved: Part 4", Mrs. Dobbs, who was the case worker responsible for processing the papers for the adoption of Penny, visits Willona's apartment for an interview with her; she is quite impressed with Bookman, who, in trying to help out with the chances of Willona being able to adopt Penny, tried to pose as her husband while she was at work at the boutique.
Just as Mrs. Dobbs was about to leave, with intentions of approving those papers, Willona returns home from work to see Bookman there with the case worker. Anyhow, thinking that Willona was trying to deceive her into thinking that she was married, as in a married couple has a much better chance in adopting a child than a single working woman, she was about to give a bad recommendation to the Social Services office where she works. When Willona learns that the idea of appearing as if Willona was married was all Bookman's idea, she changes her mind, saying that Willona would make a good mother.
Mrs. Dobbs appears again in "Penny's Christmas", to finalize Penny's adoption papers but she reconsiders Willona to adopt her after she heard Penny was shoplifting, so Willona makes her come for Christmas to see how much love Willona has for Penny.
Ad blocker interference detected!
Wikia is a free-to-use site that makes money from advertising. We have a modified experience for viewers using ad blockers

Wikia is not accessible if you've made further modifications. Remove the custom ad blocker rule(s) and the page will load as expected.