Nancy Morgan appeared aa Cindy Crebbins, a college classmate of Michael's , who plans to move into an apartment with him to share on expenses in "Michael's Decision in Season 6.
Personal Information
Gender:
Female
Birth name:
Nancy Karen Morgan
Born:
April 1, 1949
Birthplace:
Minnenapolis, MN, U.S.
Career/Family Information
Occupation/
Career:
Actress
Years active:
1978-present
Spouse(s):
John Ritter, 1977-1996
Children:
3
Character information
Appeared on:
Good Times
Character played:
Cindy Crebbins in "Michael's Decision" (Season 6)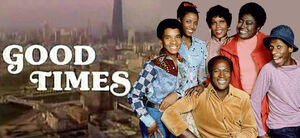 Nancy Morgan (born April 1, 1949) made a guest appearance on Good Times as Cindy Crebbins, a college classmante of Michael's who plans along with him to share an apartment together in the Season 6 episode titled "Michael's Decision".
Life and career
Edit
Nancy is the daughter of Marjorie (née Greenfield) and Samuel A. Morgan, Jr. She is a niece of John "Red" Morgan, who was awarded the Medal of Honor for his bravery during World War II in 1943, events which were later fictionalized in the movie Twelve O'Clock High.
Morgan was married from 1977 to 1996 to actor John Ritter of ABC-TV's Three's Company series fame; they had three children: Jason (b. 1980), Carly (b. 1982), and Tyler, (b. 1985). She starred opposite Ron Howard in Howard's directorial debut, Grand Theft Auto, as well as starring opposite Italian film star Terence Hill in a feature film and European television series based on comic-strip hero Lucky Luke. Morgan worked many years with husband, John Ritter, as co-host of the national United Cerebral Palsy Telethon, and in television movies The Dreamer of Oz, and Danielle Steel's Heartbeat. She played opposite Ritter in the feature film, Americathon, and made a guest appearance in his television series, which also starred John Ritter, Hooperman.
Filmography:
Edit
Film & video
Edit
Lucky Luke (1991) .... Lotta Legs
The Nest (1988) .... Lilli
Americathon (1978)... Lucy
Grand Theft Auto (1977) .... Paula Powers
Fraternity Row (1976) .... Jennifer
Television
Edit
Danielle Steel's Heartbeat (1992) Movie of the Week
Lucky Luke (1993) TV Series .... Lotta Legs
The Joy of Natural Childbirth (1987) .... Nancy
The Dreamer of Oz (1986) Movie of the Week .... Helen Leslie
Hooperman (1986) TV Episode
Diff'rent Strokes (1978) - The Older Woman (1982) TV Episode .... Kate
Backstairs at the White House (1978) Movie of the Week...Margaret Truman
The San Pedro Beach Bums (1977) TV Series ... Julie
Good Times (1977) TV Episode... Cindy Crebbins
External links
Edit
Ad blocker interference detected!
Wikia is a free-to-use site that makes money from advertising. We have a modified experience for viewers using ad blockers

Wikia is not accessible if you've made further modifications. Remove the custom ad blocker rule(s) and the page will load as expected.