Nedra Volz

Personal Information
Birthname:
Nedra Gordonier
Gender:
Female
Born:
June 18, 1908
Birthplace:
Montrose, Iowa, U.S.
Died
January 20, 2003
(aged 94)
Deathplace:
Mesa, Arizona, U.S.
Spouse(s):
Lester Rhode (19??-19??; divorced)
Oren Volz (1944-1987)
Career information
Occupation/
Career:
Actress
Years active:
1973–1996
Series involved with:
Good Times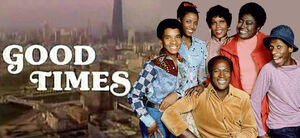 Nedra Volz (née Gordonier, June 18, 1908 – January 20, 2003) made a guest appearance on Good Times as an Old lady in the holding cell where Florida and Willona were placed after they were arrested by the police for leading a demonstration at Borgan's Supermarket for the poor quality of the food they sold in the Season 3 episode "Florida's Protest".
Life and career
Edit
Born in Montrose, Iowa, she began her career in the family tent show, and appeared in vaudeville as a toddler (called "Baby Nedra"). She ended up in the 1970s as a well-recognized supporting character actress, primarily on television and also in feature films. Nedra often played grandmothers or feisty little old ladies. In the early 1930s, Volz was featured vocalist with Cato's Vagabonds, a Des Moines, Iowa, big band that briefly enjoyed national popularity. Cato never made records, but Nedra managed to appear on exactly one 78 side, with Will Osborne's orchestra in 1933.
Her most notable appearances include:
1878: - Aunt Iola, Edith Bunker's favorite aunt on All in the Family
1980-1982: - Housekeeper Adelaide Brubaker on Diff'rent Strokes
1980-1984: - Post Office Employee Miz Emma Tisdale on CBS-TV's The Dukes of Hazzard
1985: - "Big Ed" in the Paul Bartel spoof Lust in the Dust
1982-1983: - Mother B. (Winona Beck) on CBS-TV's Filthy Rich series.
1985: - Loretta Houk in the film Moving Violations.
1988: - Lana in the film Earth Girls Are Easy.
1978: - Esther in the CBS-TV show Alice.
1985: - Pearl Sperling in a season of the ABC-TV series The Fall Guy.
Aside from these regular parts, she often appeared in guest roles. In 1978, Volz appeared in the pilot episode of the TV series WKRP in Cincinnati, where she whacked a turntable with her umbrella in protest of the station's format change. In 1980, she appeared in several Jack in the Box TV spots as they blew up Jack.[1] In 'Mission of Peace', a 1986 episode of The A-Team, she was one of a group of senior citizens forced into asking the team for help. She portrayed the roles of Mrs. Perwinkle and Angelica on The Super Mario Bros. Super Show in 1989. She continued to act well into her eighties. In Moving Violations, director Neil Israel allowed her to do many stunts herself, including being lifted into a window and falling head-first onto the floor. Volz's last acting role was in The Great White Hype in 1996. [1]
References
Edit
External links
Edit
Ad blocker interference detected!
Wikia is a free-to-use site that makes money from advertising. We have a modified experience for viewers using ad blockers

Wikia is not accessible if you've made further modifications. Remove the custom ad blocker rule(s) and the page will load as expected.