Norma Donaldson in her role as Lillie Belle Barber on the CBS-TV daytime soap "The Young and the Restless".
Personal Information
Gender:
Female
Born:
July 8, 1928
Birthplace:
Harlem, New York, U.S.
Died
November 22, 1994
(aged 66)
Deathplace:
Los Angeles, California, U.S.
Career/Family Information
Occupation/
Career:
Actress/Singer
Years active:
1955-1993
Character information
Appeared on:
Good Times
Character played:
Mrs. Baker in "Michael's Big Fall" (Season 3)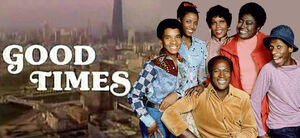 Norma Donaldson (born on July 8, 1928-died on November 22, 1994) made a guest appearance on Good Times as Mrs. Baker, Michael's schoolteacher in the Season 3 episode titled "Michael's Big Fall". She was best known for her roles, as Miss Adelaide in the 1976 revival of Guys and Dolls; Lillie Belle Barber on the CBS television soap opera The Young and the Restless, in which she played from 1990 until her death in 1994.
Norma, who was born and raised in Harlem, NY, was a seasoned stage actress who began appearing in numerous TV guest roles on series such as the Bud Yorkin/Norman Lear sicoms Good Times, The Jeffersons and All in the Family, as well as CHiPS, What's Happening, Thirtysomethimg, and the ABC daytime soap opera General Hospital. She also made numerous big screen appearances in such films as Willie Dynamite (1974), Nine to Five (1980) and the Saturday Night Fever sequel film Staying Alive starring John Travolta (1983).
Donaldson launched her career as a nightclub singer and then toured with Harry Belafonte and Lena Horne. In 1971, Donaldson began appearing in some Blaxploitation films such as 1972's Across 110th Street and Willie Dynamite. In 1975, she began acting on Broadway and was most famous for portraying the loveless chorine Miss Adelaide, opposite Robert Guillaume, in an all-black revival of Frank Loesser's Guys and Dolls in 1976. She and Guillaume were again paired in Purlie and No Place to be Somebody.
Norma died in Los Angeles, California, at Cedars Sinai Hospital there after a prolonged bout with cancer. She is buried at Forest Lawn Cemetery in Buffalo, NY.
External links
Edit
Ad blocker interference detected!
Wikia is a free-to-use site that makes money from advertising. We have a modified experience for viewers using ad blockers

Wikia is not accessible if you've made further modifications. Remove the custom ad blocker rule(s) and the page will load as expected.