Personal Information
Birthname:
Norman Lawrence Paul
Gender:
Male
Born:
November 22, 1913
Birthplace:
Brooklyn, NY, U.S.
Died
July 1, 1979
(aged 65)
Deathplace:
Los Angeles, CA, U.S.
Career information
Occupation/
Career:
TV Series Screenwriter / Producer
Years active:
1952-1979
Series involved with:
Good Times
Job on series
producer, 24 episodes, Seasons 2 and 3
writer, 19 episodes total in Seasons 1-3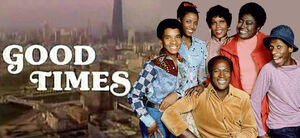 Norman Paul (borm Norman Lawrence Paul on April 21, 1922 - died November 17, 2011) was involved in the writing of a total of 26 episodes of Good Times from Seasons 1 to 3, beginning with the Season 1 episode titled "Sex and the Evans Family"; he actually wrote the script for six episodes along with creative partner Jack Elinson (with whom he often collaborated), and was involved in the development of the teleplay for 11. He also co-produced a total of 24 episodes, beginning with the Season 2 episode "The Family Gun", often along with Elinson and Allan Manings.
Amongst his most notable work, Norman, who was born and raised in Brooklyn, NY, also co-wrote 34 episodes of the 1964-65 sitcom series Wendy and Me, and 11 episodes of Gomer Pyle U.S.M.C., Get Smart, One Day At A Time, Hello, Larry, and 16 episodes of ABC-TV's animated Seturday morning series Wait 'Til Your Father Gets Home.
Norman often served as an executive producer or producer on many of the hit shows for which he wrote.
Norman died in 1979 in Los Angeles, at the age af 66.
References
Edit
External links
Edit
Ad blocker interference detected!
Wikia is a free-to-use site that makes money from advertising. We have a modified experience for viewers using ad blockers

Wikia is not accessible if you've made further modifications. Remove the custom ad blocker rule(s) and the page will load as expected.