The Old Lady, played by Nedra Volz
Personal Information
Gender:
Female
Occupation/
Career:
Not Mentioned, presumably retired
Character
description:
Arrested for acosting and attacking her husband's mistress, and placed in the same cell as Florida and Willona, who were arrested for picketing in front of Borgan's Supermarket, demonstrating over the bad quality of their food
Character information
Appeared on:
Good Times
Episodes appeared in:
"Florida's Protest" (Season 3)
Character played by:
Nedra Volz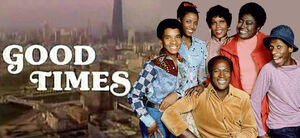 The Old Lady in the holding Cell is a character who appeared in the Season 3 episode of Good Times titled "Florida's Protest". The part of the Old Lady is played in the episode by Nedra Volz.
About the woman
Edit
After Willona and Florida were arrested by the police for demonstrating outside of Borgan's Supermarket over the poor quality of their food, they are put in jail; they are placed in a holding cell, where they run into a hooker who calls herself "The Princess" (played by Bhetty Waldron).
When the hooker asks Willona, "What are you in here for?", Willona replies, "We were just walking up and down the street demonstrating!" as she says "Oh, yeah? Me, too!"
Florida tries to explain to the hooker "I'm afraid you don't understand...we were carrying signs!" as the hooker then replies "No wonder you got busted!"
When the old lady, who was already in the cell overhears this, she says "I was arrested for streetwalking...I saw my husband with another woman, so I caught up with them, threw her down on the street, and I walked up and down on her!" as the hooker responds "Right on, mama!" as they high five each other!
Ad blocker interference detected!
Wikia is a free-to-use site that makes money from advertising. We have a modified experience for viewers using ad blockers

Wikia is not accessible if you've made further modifications. Remove the custom ad blocker rule(s) and the page will load as expected.