Paul Savior guest stars as Dr. Casey in the episode "Florida's Favorite Passenger: Part 2" in Season 6.
Personal Information
Gender:
Male
Birth name:
Paul M. Savior
Born:
August 16, 1931
Birthplace:
Brooklyn, NY, U.S.
Career/Family Information
Occupation/
Career:
Actor
Years active:
1956-2010
Character information
Appeared on:
Good Times
Character played:
Dr. Harvey Casey in "Florida's Favorite Passenger: Part 2" (Season 6)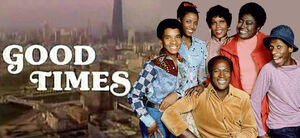 Paul Savior (born August 16, 1931) made a guest appearance on Good Times as Dr. Harvey Casey, who treats Larry Baker, a passanger on the school bus which Florida drives, and whom she takes an interest in, and whom was taken by her to the doctor to surgically correct a hearing problem, in the Season 6 episode titled "Florida's Favorite Passenger: Part 2". Paul, a man with rich and varied interests, including the fine arts, culinary arts, writing and oration, has a long acting career which spans six decades.
Acting career
Edit
Paul has appeared in starring roles on television, in soap operas which include, Love of Life where he originated the role of Rick Latimer (1960-1966), ABC-TV's General Hospital as the first actor to play the part of Tom Baldwin, Sr. (1967-1972), CBS-TV's The Edge of Night as Vincent Kayle, CBS's The Young and the Restless as Walter Addison, and NBC's Days of our Lives, where he appeared as Sam Reynolds.
Savior has also acted diverse roles on primetime television shows such as Kojak, Police Woman, Jericho, The Blue Knight, and Armstrong Circle Theatre. Paul is also a much sought after voice over artist.
Other interests
Edit
Among his varied interests, include the fine arts, culinary arts, writing and oration. Paul designs his line of art frames, "Remarkable Hang-Ups", which are sold by Shrub Oak Custom Framing, in Shrub Oak NY, which are available on their website, http://www.shruboakframing.com/.
Paul currently resides with his wife and daughter in Putnam Valley, NY.
External links
Edit
Ad blocker interference detected!
Wikia is a free-to-use site that makes money from advertising. We have a modified experience for viewers using ad blockers

Wikia is not accessible if you've made further modifications. Remove the custom ad blocker rule(s) and the page will load as expected.