Paula Kelly
Personal Information
Gender:
Female
Nationality
American
Born:
October 21, 1943
Birthplace:
Jacksonville, Florida, U.S.
Career/Family Information
Occupation/
Career:
Actress, Dancer
Years active:
1965-present
Character information
Appeared on:
Good Times
Character played:
Dr. Kelly in "Where Have All the Doctors Gone?" in Season 6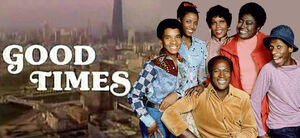 Paula Kelly (born October 21, 1943) appeared as Dr. Kelly, the phyiscian at the community clinic to whom Florida and Willona took Penny to get treated and also, whom is fed up with the ghetto surroundings and substandard clinical conditions in which she has to work around and who desires to work in a more comfortable setting in "Where Have All the Doctors Gone?" in Season 6 og Good Times. A highly talented veteran dancer and actress in motion pictures, television and theatre, Paula had a recurring role as Public Defender Liz Williams] on the first season of the NBC-TV sitcom series Night Court, for which she received an Emmy Award nomination.
Kelly made he Broadway theatre debut as Mrs. Veloz in the 1964 musical Something More!, sharing the stage with actress Barbara Cook. Her other Broadway credits include The Dozens (1969), Paul Sills' Story Theatre (1971), Ovid's Metamorphoses (1971), and Duke Ellington's Sophisticated Ladies (1981) with Gregory Hines and Phyllis Hyman.
Paula's film credits include the Bob Fosse-directed film Sweet Charity; Soylent Green; The Spook Who Sat By The Door; The Andromeda Strain; Uptown Saturday Night; Jo Jo Dancer, Your Life Is Calling; Drop Squad; and Once Upon a Time...When We Were Colored.
In addition to her role on Night Court, Paula has also guest-starred in a variety of television movies and sitcoms, including Sanford and Son, Kojak, Police Woman, The Golden Girls, Good Times, Any Day Now and in the groundbreaking Oprah Winfrey-produced The Women of Brewster Place (based on the novel by Gloria Naylor), in which she portrayed one half of a lesbian couple (opposite Lonette McKee) struggling against homophobia in an inner city ghetto. She was nominated for a second Emmy for her role in The Women of Brewster Place.
References
Edit
External links
Edit
Ad blocker interference detected!
Wikia is a free-to-use site that makes money from advertising. We have a modified experience for viewers using ad blockers

Wikia is not accessible if you've made further modifications. Remove the custom ad blocker rule(s) and the page will load as expected.