Personal Information
Gender:
Male
Born:
January 26, 1924
Birthplace:
San Diego, California, U.S.
Died
December 12, 2004
(aged 80)
Deathplace:
Pacific Palisades, California, U.S.
Career information
Occupation/
Career:
TV screenwriter/producer
Years active:
1955-1987
Series involved with:
Good Times
Job on series
Co wrtoe 5 episodes in Seasons 2 & 3 with Dick Bensfield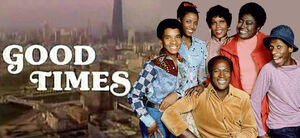 Dick Bensfield (born June 18, 1926) wrote (with Dick Bensfield) five episodes of Good Times, beginning with the episode "The Nude" in Season 2. Dick, often along with Grant, has also written episodes for such TV series that include The Adventures of Ozzie and Harriet, The Lucy Show, The Andy Griffith Show, Mayberry R.F.D., The Doris Day Show, I Dream of Jeannie, Love American Style, The Partridge Family, The Odd Couple, The Jeffersons, Maude, Happy Days, One Day at a Time, and 227.
Episodes written by Bensfield/Grant
Edit
External links
Edit
Ad blocker interference detected!
Wikia is a free-to-use site that makes money from advertising. We have a modified experience for viewers using ad blockers

Wikia is not accessible if you've made further modifications. Remove the custom ad blocker rule(s) and the page will load as expected.