Perry Rosemond

Personal Information
Gender:
Male
Born:
November 15, 1936
Birthplace:
Winnipeg, Ontario, Canada
Career information
Occupation/
Career:
television writer, producer and director
Series involved with:
Good Times
Job on series
directed Season 1 episode "Getting Up The Rent"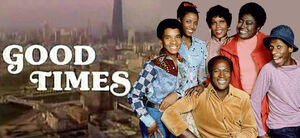 Perry Rosemond, CM (born November 15, 1936 in Winnipeg, Manitoba, Canada) is a Canadian television writer, producer and director. Perry directed the Season 1 episode of Good Times titled "Getting Up The Rent".
Rosemond has created, produced, written and directed Canadian. American, and international television for over forty years. His efforts, notably the CTV television series Royal Canadian Air Farce and King of Kensington. which ran for six seasons (1975-80) and was aired in numerous major American TV markests in syndication, such as New York City, Los Angeles, Washington, Chicago, Cleveland, and Philadelphia.
Perry has been rewarded with the Order of Canada in his home country, and the George Foster Peabody Award in the United States. Most recently, he Executive-Produced When Jews Were Funny which was named 'Best Canadian Feature Film' at the 2013 Toronto International Film Festival.
External links
Edit
Ad blocker interference detected!
Wikia is a free-to-use site that makes money from advertising. We have a modified experience for viewers using ad blockers

Wikia is not accessible if you've made further modifications. Remove the custom ad blocker rule(s) and the page will load as expected.