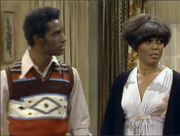 Ray, played by Carl Lee
Personal Information
Gender:
Male
Occupation/
Career:
Traveling jazz musician
Character
description:
comes back to try to re-claim Willona, presenting her with an engagemant ring, until he's revealed not to have changed his conniving ways after he tries to make a sexual advance towards Thelma
Spouse(s):
Willona Woods, ?-1971, divorced
Character information
Appeared on:
Good Times
Episodes appeared in:
"Willona's Surprise" (Season 6)
Character played by:
Carl Lee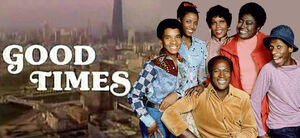 Ray Woods, Willona's ex-husband, who comes back to try to rekindle their relationship and to propose marriage to her, berore he's found out to be unchanged in his philandering ways, after he tries to hit on Thelma, appears in the Season 4 episode titled " Willona's Surprise". The part of Ray is played in the episode by Carl Lee.
About Ray
Edit
When Ray, who constantly cheated on Willona while they were married, suddenly returns on proverbial "doorstep" after six years, asking for her to allow him back into her life in "Willona's Suprise", just in time for her birthday, Florida and Willona are both very distrustful of his motives. The reason for their mutual distrust of Ray lies in the fact that while he was married to Willona, he would consistently lie to her in order to conceal his conniving, philandering ways from her,
Now Ray, who's a musician, a percussionist who's part of a traveling band,when it actually has gigs, swears to be a "changed man" and that he's finally "got his head right", as he tries to show it by presenting Willona with an engagement ring, asking for her to re-marry him, as Willona is then quite flattered. and then actaually persuaded that Ray has changed, as she contemplates accepting his engagemant offer.
when Ray first sets eyes upon Thelma after six years, he is taken with her beauty, as he compliments her saying how she has grown into a beautiful young woman, as Thelma accepts the compliment. But, just when it seems as if Ray has changed his former cheating ways, his compliment only proves to mask his intentions with willona and his unchanged ways, as he tries to hit on Thelma, and then tries to force his ways on her when she resists, while everyone was over at Willona's for a moment; When Thelma tells Florida, after some prodding, she reluctantly tells her about Ray's advances, as Florida then tells Willona that Ray is "still a bum" and about what he tried to do to Thelma.
When Ray tries to defend himself by saying to her "Who are you going to believe, me, of some flaky kid!?" and "Now, make up your mind, you're either going with me, or you're gonna stay?!" Willona makes her choice by punching him in the face!
Ad blocker interference detected!
Wikia is a free-to-use site that makes money from advertising. We have a modified experience for viewers using ad blockers

Wikia is not accessible if you've made further modifications. Remove the custom ad blocker rule(s) and the page will load as expected.