RaYmond Allen played the recurring role of Ned the Wino on "Good Times". He's also well known for his role as Uncle Woodrow on NBC-TV's "Sanford and Son" TV series
Personal Information
Gender:
Male
Birth name:
Raymond Gilmore Allen
Born:
March 5, 1929
Birthplace:
Kansas City, Missouri, U.S.
Career/Family Information
Occupation/
Career:
Actor
Years active:
1946–1985
Spouse(s):
Barbara Williams, 1969-1977, divocrced
Children:
3, including actress Ta-Ronce Allen
Character information
Appeared on:
Good Times
Character played:
Ned the Wino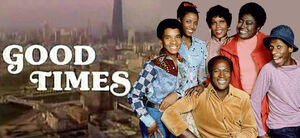 Raymond Gilmore Allen (born March 5, 1929) is an American actor best known for his appearances on television in the 1970s. He had recurring roles as Ned the Wino on the series Good Times, as Aunt Esther's husband, Uncle Woodrow on the NBC-TV sitcom series Sanford and Son, and as mechanic Merle the Earl on Starsky and Hutch. He reprised his role as Uncle Woody Anderson in the Sanford and Son spin-off, The Sanford Arms. Raymond also made guest appearances on The Jeffersons, What's Happening!!, The Love Boat and the film Wattstax.
Personal life
Edit
Allen has not appeared in any acting roles since 1985, but still makes public appearances, where he speaks to people and signs autographs. According to his MySpace page, Allen was forced to retire from acting due to illness. Allen was married to Barbara Williams from 1969 to 1977; they have three children, currently, Allen lives with his daughter, former child actress Ta-Ronce Allen (who appeared in the recurring role of Yvonne, a girlfriend of Michael's in Season 4) in Lancaster, California. He visits the Los Angeles area to visit his daughter Brenda Allen.
References
Edit
External links
Edit

Stub templates just show off a wiki's flaws. Instead of using a stub template, make the page better!
Ad blocker interference detected!
Wikia is a free-to-use site that makes money from advertising. We have a modified experience for viewers using ad blockers

Wikia is not accessible if you've made further modifications. Remove the custom ad blocker rule(s) and the page will load as expected.