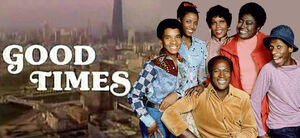 Reverend Beasley, the pastor who marries Grandpa Henry Evans and his fiancee Lena Anderson, appears in the Season 5 episode of Good Times titled "Something Old, Something New". The part of the Reverend is played by DeForest Covan.
About the Reverend
Edit
When Rev. Beasley arrives at the Evans' apartment, he wipes his feet at the door, not wanting to track any mud on the carpet. When he walks in, he is first enamored by the appearance of bridesmaid Willona, saying "Oohh, Lawdy, Miss Claudy!! You must be the lovely bride!", as Willona responds "Lovely, Yes, Bride, No!" He is even more taken with the wedding buffet, as he exclaims: "What do we have here! champagne, caviar and chitlin' dip!" as he says to J.J.: "I suppose you want my first class ceremony!" J.J. responds "No, I think we're traveling tourist today!"
Ad blocker interference detected!
Wikia is a free-to-use site that makes money from advertising. We have a modified experience for viewers using ad blockers

Wikia is not accessible if you've made further modifications. Remove the custom ad blocker rule(s) and the page will load as expected.