Robert Simpson, played by Ralph Wilcox
Personal Information
Gender:
Male
Occupation/
Career:
Former high school/college student-athlete
Character
description:
Has to be kept awake by J.J. after he attempts suicide by OD on some sleeping pills that were in the Evans' bathroom
Character information
Appeared on:
Good Times
Character played by:
Ralph Wilcox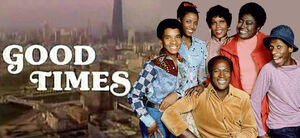 Robert Simpson, an old high school classmate of J.J.'s, appears in the Season 4 episode of Good Times titled "A Friend in Need". The part of Robert is played in the episode by Ralph Wilcox.
About Robert
Edit
When the kids throw a wild party in Mom Florida's absence, among the guests is Robert, J.J.'s old high school chum. Robert, a once-promising high school basketball player, and scholar, soon, after arriving at the party, breaks the news to J.J. that he has just flunked out of college and been subsequently released from the school's basketball team. When J.J. tries to console him over his misfortune, telling him that he can easily do something else, Rotert says "To me, basketball was my life", as mounting pressure from his father, a high school coach, to succeed in sports, the pressures of college life, which, for him, as he says, consisted of a lot of partying, and combined with the news that Ellen, his girlfriend (Debbie Morgan) has just dumped him, sets him over the edge, as he decides that life isn't worth living anymore, as things take an even grimmer turn when Robert takes a bottle sleeping pills that were in the Evans' bathroom, trying to "end it all" after the party ends.
J.J., who's all of a sudden, transformed from a consoling buddy to a literal lifesaver as he. has to try hard to keep Robert awake while Thelma and Michael awaits the arrival of the paramedics, who eventually come in the nick of time to keep Robert from "ending it all".
Ad blocker interference detected!
Wikia is a free-to-use site that makes money from advertising. We have a modified experience for viewers using ad blockers

Wikia is not accessible if you've made further modifications. Remove the custom ad blocker rule(s) and the page will load as expected.