Personal Information
Career information
Occupation/
Career:
Screenwriter/Television producer
Years active:
1978-2002
Series involved with:
Good Times
Job on series
Writer, "The Visitor" (Season 1) and Co-writer, "Bye, Bye, Bookman" (Season 5), both with Paul M. Belous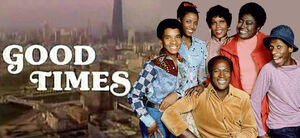 Robert Wolterstoff wrote the Season 1 episode titled "The Visitor", and then co-wrote the Season 5 episode titled "Bye, Bye, Bookman" in his collaboration with creative partner Paul M. Belous. In addition to Good Times, Robert wrote episodes for such popular TV series as The Misadventures of Sherriff Lobo, Quantum Leap, The Jeffersons, Beyond Belief: Fact or Fiction and also has produced episodes for such series as Quantum Leap, Street Hawk and Danger Theatre.
External links
Edit
Ad blocker interference detected!
Wikia is a free-to-use site that makes money from advertising. We have a modified experience for viewers using ad blockers

Wikia is not accessible if you've made further modifications. Remove the custom ad blocker rule(s) and the page will load as expected.