Personal Information
Gender:
Male
Career information
Occupation/
Career:
Screenwriter
Years active:
1975, 1982
Series involved with:
Good Times
Job on series
Wrote "Cousin Cleatus" episode, Season 3 (story/teleplay)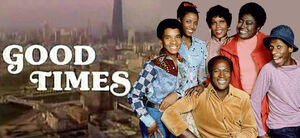 Ron Allen Thompson co-wrote the script for the episode of Good Times titled "Cousin Cleatus" in Season 3 with Jack Elinson and Norman Paul; he also came up with the original story for the episode. He also wrote an episode for another Norman Lear series, Archie Bunker's Place, in 1982 titled "Blind Man's Bluff".
External links
Edit
Ad blocker interference detected!
Wikia is a free-to-use site that makes money from advertising. We have a modified experience for viewers using ad blockers

Wikia is not accessible if you've made further modifications. Remove the custom ad blocker rule(s) and the page will load as expected.