Not to be confused with Savannah Jones.

Savannah Morgan, as played by Beverly Hope Atkinson
Personal Information
Gender:
Female
Character
description:
Shows up angry at Sweet Daddy for giving her a lemon after she got into an accident with Keith, who drives a taxicab
Testifies on behalf of J.J. who saw the accident, when a representative for the cab company shows up for a deposition
Character information
Appeared on:
Good Times
Episodes appeared in:
"The Witness" (Season 6)
Character played by:
Beverly Hope Atkinson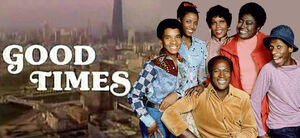 Savannah Morgan appears in the Season 6 episode of Good Times titled "The Witness". The part of Savannah is played in the episode by Beverly Hope Atkinson.
About Savannah Morgan
Edit
When J.J. witnesses an fender-bender accident between Keith, who drives a taxicab for the Windy City Cab Company, and Savannah, Sweet Daddy Williams's girlfriend, Sweets tries to strong-arm him into lying about who caused the accident, so that he would not have to pay damages for the taxi, as a Mr. Miller, who represents the taxi company, arrives at the apartment with his stenographer to take the deposition.
It looks like Sweets is able to get away with his intimidation tactic on J.J., when, at the last minute, Savannah shows up, angry saying to Sweet Daddy:
"Oh, so there you are, you penny-penching, money-grabbing muckworm!" as she calls him a "cheap, lying, two-faced tightwad!" as he says "your lips are moving, but youre not sayin' anything!", as she then says "Well then sample this, dum-dum! We are finished!" as she reveals "I'm glad I hit that taxi!" as she claims that Sweets gave her a "second-hand" car for her birthday. When Sweets claims to her that the car he bought her was "top of the line", Savannah says "What line?! The clothes line!?''
Savannah goes on to say "The man from the auto garage told me that that car had a rebuilt engine, a bent frame, and three new tires with recaps!" as she then tells Sweet Daddy that she's taken up with "Big Elroy Little who promised her "a brand new 1979 Maserati, fresh off the showroom floor, whith a bill of sale!"
Ad blocker interference detected!
Wikia is a free-to-use site that makes money from advertising. We have a modified experience for viewers using ad blockers

Wikia is not accessible if you've made further modifications. Remove the custom ad blocker rule(s) and the page will load as expected.