Good Times: Season One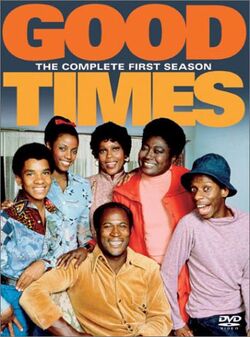 Season 1 DVD Cover.
Season Information
Episodes aired:
13 aired
Network/Airdates:
CBS-TV, January 21, 1974 - May 10, 1974
Previous Season:
None - N/A
Next Season:
Good Times: Season 1 episodesEdit
This page lists all of the aired episodes of Season 1 of the CBS-TV series Good Times. The series pilot, "Too Old Blues", originally aired on February 8, 1974. The season finale episode, "My Son, the Lover", aired on May 10, 1974.
Season 1 (1974)
Edit
Season 1 episodes
Image
# in Series
Prod. Code
# in Season
Title
Written by
Directed by
Date aired
Tape date
1
101
1
"Too Old Blues"
Bob Peete
Bob LaHendro & Donald McKayle
February 8, 1974
January 21, 1974
James tells Florida to plan a big party to celebrate the new job he thinks he's getting once he joins the company union. But he's turned down once they discover he's too old. Unknowingly, Florida has spent most of the rent money on the celebration for James.
2
102
2
"Black Jesus"
Kurt Taylor & John Donley
Bob LaHendro & John Rich
February 15, 1974
January 14, 1974
The Evans family starts to have good luck after J.J. paints a portrait of a Black Jesus.
3
103
3
"Getting Up The Rent"
a.k.a. Good Times Pilot a.k.a. The Pilot
Donald McKayle & Perry Rosemond
Eric Monte
February 22, 1974
January 7, 1974
The rent is due, but the Evans family is short $74 dollars. James and J.J. devise schemes to come up with the money, while Florida and Willona go down to the welfare office to plead their case.
4
104
4
"God's Business is Good Business"
Richard Wolpert
Bob LaHendro, Donald McKayle
March 1, 1974
January 28, 1974
James wants to take a $100 per day job with an unscrupulous holy man, but Florida wants him to stick to the family's morals and values. Roscoe Lee Browne guest stars.
5
105
5
"Michael Gets Suspended"
a.k.a. The Midget Strikes Back
Eric Monte
Herbert Kenwith
March 8, 1974
February 12, 1974
James and Florida are upset that Michael was suspended from school after telling his class that George Washington was a racist.
6
106
6
"Sex and the Evans Family"
Norman Paul & Jack Elinson (teleplay)
Donald L. Stewart (story)
Herbert Kenwith
March 15, 1974
February 26, 1974
Florida thinks the dirty story she discovers in the house belongs to J.J. But she gets the shock of her life when she realizes it belongs to Thelma's new boyfriend.
7
107
7
"Junior Gets a Patron"
Larry Siegel
Herbert Kenwith
March 22, 1974
February 19, 1974
J.J. thinks he's hit the big time when he meets Leroy, who wants to sponsor his art work. When James learns who the patron is, he prohibits the partnership.
8
108
8
"Junior the Senior"
Ken Hecht, Lloyd Garver (teleplay / story)
& Lou Derman & Bill Davenport (teleplay)
Herbert Kenwith
March 29, 1974
March 6, 1974
James and Florida are concerned J.J. won't graduate, but when he comes home with really good grades they become suspicious.
9
109
9
"The Visitor"
Norman Paul & Jack Elinson (teleplay)
Robert Wolterstorff, Allessandro Veith & Thad Mumford (story)
Herbert Kenwith
April 5, 1974
March 20, 1974
A housing official visits the Evans family to dispute an angry letter Michael sent to the newspaper regarding the deplorable housing conditions. But when he gets stuck in the building, the official gets an intimate look at life in the projects.
10
110
10
"Springtime in the Ghetto"
Norman Paul & Jack Elinson
Herbert Kenwith
April 19, 1974
March 27, 1974
Florida is a shoe-in to win the cleanest apartment award, but when Michael brings home the neighborhood wino, her chances of winning deteriorate.
11
111
11
"The TV Commercial"
Simon Muntner, Lou Derman, & Bill Davenport
Herbert Kenwith
April 26, 1974
April 3, 1974
Florida has a great opportunity to be in a commercial for a whopping $5,000 but after reading the script and testing the product, she decides it's not so great after all.
12
112
12
"The Checkup"
a.k.a. James Goes Down
Kurt Taylor & John Donley
Herbert Kenwith
May 3, 1974
April 10, 1974
The kids and Florida are worried about James' health when they learn about the dangers of hypertension. Their concerns upset James and he refuses to visit a doctor.
13
113
13
"My Son, the Lover"
a.k.a. I Love Marcy
Lou Derman & Bill Davenport (teleplay / story)
and Norman Paul & Jack Elinson (teleplay)
Herbert Kenwith
May 10, 1974
April 17, 1974
Florida and Thelma are suspicious of a popular girl who asks J.J. to paint her picture. He thinks she really likes him, but Florida and Thelma think otherwise.
Good Times
List of Episodes
Season episode guides
* Season 1
* Season 2
* Season 3
* Season 4
* Season 5
* Season 6