Good Times: Season Five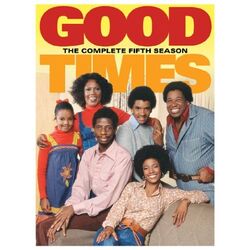 Good Times Season 5 DVD Cover.
Season Information
Episodes aired:
24 aired
Network/Airdates:
CBS-TV, September 21, 1977 - April 3, 1978
Previous Season:
Next Season:
Good Times: Season Five episodesEdit
This page lists all of the episodes aired in the fifth season of Good Times. The season's premiere episode, "The Evans Get Involved: Part 1", premiered on September 21, 1977, as Janet Jackson joined the cast as Penny Gordon, an abused child who lives in the project building with her mother that Willona winds up adopting in an 4-episode story arc that opened the season.
The season's final episode, "That's Entertainment, Evans Style" aired on April 3, 1978, as a total of 24 episodes were aired.
Season 5 (1977-1978)
Edit
Season 5 episodes
Image
# in Series
Prod. Code
# in Season
Title
Written by
Directed by
Original Air Date
Tape Date
86
501 (501a)
1 (1a)
"The Evans Get Involved: Part 1"
a.k.a. "Meet Penny"
Austin Kalish & Irma Kalish
Gerren Keith
September 21, 1977
August 11, 1977
When a cute little girl follows J.J. to his home, she tells the story of a happy home life which couldn't be further from the truth. Meanwhile, Florida is honeymooning in Arizona.
87
502 (501b)
2 (1b)
"The Evans Get Involved: Part 2"
a.k.a. "Meet Penny"
Sid Dorfman
Gerren Keith
September 21, 1977
August 11, 1977
When Penny shows up with a broken arm, Willona, J.J., Thelma and Michael are certain that she is being abused, but they have a hard time finding someone who will believe them.
88
503 (501c)
3 (1c)
"The Evans Get Involved: Part 3"
a.k.a. "The Solution"
Gordon Mitchell & Lloyd Turner
Gerren Keith
September 28, 1977
August 18, 1977
Penny and her abusive mother unexpectedly move, which shocks Willona and the kids. When Penny runs away and hides at the Evans household, her mother decides to abandon her.
89
504 (501d)
4 (1d)
"The Evans Get Involved: Part 4"
a.k.a. "The Fina1"
Austin Kalish & Irma Kalish
Gerren Keith
October 5, 1977
August 25, 1977
Willona thinks her chances of adopting Penny are bleak because she's unmarried, so Bookman pretends to be her husband for the interview with the social worker.
90
505
5
"Thelma Moves Out"
Michael S. Baser & Kim Weiskopf
Gerren Keith
October 12, 1977
September 8, 1977
Thelma is anxious to have her own privacy and moves to an apartment that seems more crowded than the one she just left.
91
506
6
"Willona, the Fuzz"
Richard Frieman (story & teleplay)
Sid Dorfman (teleplay)
Gerren Keith
October 19, 1977
September 15, 1977
Willona's new job goes against her morals, but she decides to put her values on the back burner to earn spare money for Penny's ice skating lessons.
92
507
7
"Wheels"
Michael S. Baser & Kim Weiskopf (teleplay)
Bill Freedman & , Al Schwartz (story & teleplay)
Gerren Keith
November 2, 1977
September 29, 1977
J.J. and his friends buy a car from Bookman. The problems with the car are not as big as the problem of deciding who gets to drive it next!
93
508
8
"Breaker, Breaker"
Elroy Schwartz
Gerren Keith
November 9, 1977
July 28, 1977
Michael has fun pretending to be J.J. while using a CB radio. But the girl he meets over the airwaves doesn't disclose everything about herself.
94
509
9
"Bye, Bye, Bookman"
Robert Wolterstoff & Paul M. Belous
Gerren Keith
November 16, 1977
October 6, 1977
The deplorable conditions of the building cause the Evanses and Willona to generate a petition to get Bookman fired. Bookman and his wife create their own scheme to stay in the building.
95
510
10
"Thelma's Brief Encounter"
Bruce Kalish & Philip John Taylor
Gerren Keith
December 7, 1977
October 13, 1977
J.J., Michael, and Willona think that Thelma's new boyfriend is married. J.J. uncovers some shocking information.
96
511
11
"Requiem for a Wino"
Gordon Mitchell & Lloyd Turner
Gerren Keith
December 14, 1977
October 20, 1977
Fishbone (guest star Robert Guillaume) the wino is convinced that he has no friends. When a mix-up makes everyone think he's dead, he's pleasantly surprised at the number of people who show up at his wake.
97
512
12
"Penny's Christmas"
Robert Stevenson & Rosalind Stevenson
Gerren Keith
December 21, 1977
December 1, 1977
Penny is desperate to buy Willona a Christmas gift but has no money after her wallet is stolen. Stealing a necklace seems to be her only option, but her actions may land her in foster care.
98
513
13
"No More Mr. Nice Guy"
Dan Wilcox & Tom Dunsmuir
Gerren Keith
January 4, 1978
November 17, 1977
J.J. has to become the father figure of the Evans household when Michael's disinterested attitude about responsibility lands him and Penny in jail for riding in a stolen car.
99
514
14
"Willona's Mr. Right"
Laura Levine
Gerren Keith
January 11, 1978
November 10, 1977
Willona's ex-boyfriend returns to rekindle their romance. But she declines his marriage proposal because his career would cause the family to constantly move. However, Penny feels like a burden and runs away.
100
515
15
"J.J. and the Boss' Daughter"
Bob Baublitz & Kevin Hopps (story & teleplay)
Michael S. Baser & Kim Weiskopf (story)
Gerren Keith
January 18, 1978
December 8, 1977
When his boss' daughter expresses her attraction for J.J., he decides to pursue a relationship hoping it will put him in favor with the boss.
101
516
16
"Where There's Smoke"
Bruce Kalish & Philip John Taylor
Gerren Keith
January 25, 1978
December 15, 1977
The mystery of the burned sofa cushion is generating various stories. But Penny seems to be the only one who knows what really happened.
102
517
17
"I Had a Dream"
Jim Rogers
Gerren Keith
January 30, 1978
November 3, 1977
J.J. fears that a deserved promotion at work is going to go to a white co-worker. Later that night, J.J. dreams of being a white man.
103
518
18
"The Boarder"
Don Segall
Gerren Keith
February 6, 1978
December 22, 1977
The Evanses get a boarder to help pay the rent. But he's hiding a small secret: he's a witness to a crime and is currently in police protection.
104
519
19
"J.J.'s Condition"
Bill Nuss & Dusty Kay
Gerren Keith
February 13, 1978
January 19, 1978
J.J.'s relationship with a married woman causes him to get an ulcer. His condition worsens when he realizes the soon-to-be divorced woman still lives with her husband.
105
520
20
"Willona, the Other Woman"
Michael G. Moye
Gerren Keith
February 27, 1978
January 26, 1978
Bookman's wife, Violet, suspects him of cheating. When she sees him and Willona together on several occasions, she's convinced they're having an affair.
106
521
21
"Something Old, Something New"
Sid Dorfman
Gerren Keith
March 13, 1978
January 12, 1978
Grandpa Evans comes to visit with his fiance and an idea to make them rich. The plan is derailed when his fiance, Lena, chooses to walk out on him because she feels neglected. Richard Ward guest stars.
107
522
22
"Willona's New Job"
Michael G. Moye
Gerren Keith
March 20, 1978
February 16, 1978
Willona finally gets a promotion at the boutique, but her boyfriend, Frank, wants her to decline the offer and accept his marriage proposal.
108
523
23
"Write On, Thelma"
Judi Ann Mason
Gerren Keith
March 27, 1978
February 9, 1978
Thelma's play is chosen as the production for the neighborhood theater. Her happiness quickly evaporates when she learns that her play will need a complete rewrite.
109
524
24
"That's Entertainment, Evans Style"
Michael S. Baser & Kim Weiskopf
Gerren Keith
April 3, 1978
February 23, 1978
The Evans family produces a neighborhood benefit to raise money for a local day care center.
Good Times
List of Episodes
Season episode guides
* Season 1
* Season 2
* Season 3
* Season 4
* Season 5
* Season 6