Stanley Bennett Clay
Personal Information
Gender:
Male
Born:
March 18, 1950
Birthplace:
Chicago, Illinois, U.S.
Career/Family Information
Occupation/
Career:
Actor, Screenwriter and Author
Years active:
1972-present
Character information
Appeared on:
Good Times
Character played:
Jimmy Pearson in "The Politicians" in Season 3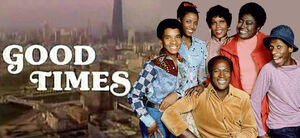 Stanley Bennett Clay appeared as Jimmy Pearson, a brash young Chicago politician who ran against incumbent Alderman Fred C. Davis in the Season 3 episode "The Politicians". Stanley made numerous appearances on such popular 1970's TV shows such as Medical Center, M*A*S*H, Marcus Welby, M.D., Sanford and Son, and Cannon, He also sppeared in the Pam Grier blaxploitation flick Cleopatra Jones (1973).
Stanley received 3 NAACP Theatre Awards and 3 Drama-logue Awards for writing, directing and co-producing the stage play "Ritual." He has additionally directed the musical "Cyrano de Bergerac, Man!" a rock adaptation of the classic Rostand play, wrote and directed the play "Lovers" and wrote, directed, and starred in the drama "Armstrong's Kid," among others. He received the NAACP Best Actor Image Award for his performance opposite "Good Times" Bern'Nadette Stanis, in his multiple award-winning production of "Anna Lucasta."[1]
References
Edit
External links
Edit
Ad blocker interference detected!
Wikia is a free-to-use site that makes money from advertising. We have a modified experience for viewers using ad blockers

Wikia is not accessible if you've made further modifications. Remove the custom ad blocker rule(s) and the page will load as expected.