Mr. Bryd, played by Theodore Wilson
Personal Information
Gender:
Male
Occupation/
Career:
Nightclub owner
Character
description:
Offers to help J.J. manage Tyrone Tyler, a nervous, talentless comic
Pays off a debt J.J. owes to a loan shark, whose goons threatened to break him in half
Character information
Appeared on:
Good Times
Episodes appeared in:
"The Comedian and the Loan Sharks" (Season 4)
Character played by:
Theodore Wilson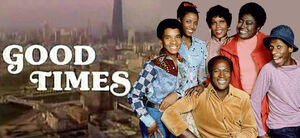 Stanley Byrd, a nightclub owner, appears in the the Season 4 episode of Good Times titled "The Comedian and the Loan Sharks". The part of Stanley is played in the episode by Theodore Wilson, who also appeared in the recurring role of Marion "Sweet Daddy" Williams, a locol hoodlum and numbers runner.
About Mr. Byrd
Edit
When showbiz agent J.J. assumes the management of a young nightclub comic Tyrone Tyler (Gary Veney). But in order to properly promote Tyrone, J.J., who desperately needs money, winds up going to a local loan shark. As Tyrone, whom Stanley had at first opted to help J.J. back, nervously prepares for his professional debut, an equally nervous J.J. awaits the wrath of the loan shark's thugs, who are waiting to collect the $200 plus interest which he loaned from the loan shark.
When a nervous Tyrone gets cold feet as he's introduced, then runs out of the club, J.J. is left holding the bag, as he is forced to try to perform the comedy act himself. When he too flops onstage, the goons are waiting backstage to break him in half, as he doesn't have the money. With the pleading and prodding of Florida, she is able to get Mr. Byrd to pay off the debt owed to the loan shark, if not for any other reason, so that they wouldn't start busting up his place, not to mention J.J.!
As repayment, J.J. winds up having to work nights -- mopping floors in the place -- to pay off the $200 he now owes to Stanley -- as he says to J.J. "I figure another 10 nights, our partnership shall be dissolved!"
Ad blocker interference detected!
Wikia is a free-to-use site that makes money from advertising. We have a modified experience for viewers using ad blockers

Wikia is not accessible if you've made further modifications. Remove the custom ad blocker rule(s) and the page will load as expected.