Susan Batson promoting her new book "Truth" in 2013.

Personal Information
Gender:
Female
Born:
1944
Birthplace:
Roxbury, Massachusetts, U.S.
Website/URL
http://www.susanbatsonstudionyc.com/
Career information
Occupation/
Career:
Film, television actress, author, acting coach
Years active:
1965-present
Series involved with:
Good Times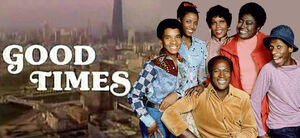 Susan Batson made a guest appearance on Good Times as a snooty Unemploymet office Clerk in the Season 4 episode titled "J.J.'s New Career: Part 1". A producer, actress, author, acting coach, and a life member of the Actors Studio.[1] Susan's mother, Ruth Batson, was a noted civil rights activist. She trained with Harold Clurman, Uta Hagen, [Herbert Berghof, and Lee Strasberg. She coaches actresses such as Nicole Kidman and Juliette Binocha. Susan Batson is considered one of the most significant coaches in the world.
References
Edit
↑ David Garfield (1980). "Appendix: Life Members of the Actors Studio as of January 1980". A Player's Place: The Story of the Actors Studio. New York: MacMillan Publishing Co., Inc.. p. 277. ISBN 0-02-542650-8.

 
External links
Edit
Ad blocker interference detected!
Wikia is a free-to-use site that makes money from advertising. We have a modified experience for viewers using ad blockers

Wikia is not accessible if you've made further modifications. Remove the custom ad blocker rule(s) and the page will load as expected.