Kathleen Bradley as Sweet Daddy Williams's nurse in "Blood Will Tell" in Season 6.
Personal Information
Gender:
Male
Body type:
Buxom / Shapely
Character
description:
Day nurse who gets on shift at the hospital where Sweets is hospitalized awaiting a donor for an upcoming blood transfusion, which turns out to be J.J. ; turn downs Sweets' proposition when she orders him to stop watching TV on his automotive wheelchair and forces him to go to bed
Character information
Appeared on:
Good Times
Episodes appeared in:
"Blood Will Tell" in Season 6
Character played by:
Kathleen Bradley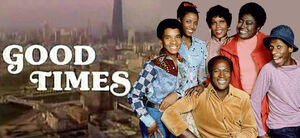 Sweet Daddy Williams's Nurse appears in the Season 6 episode of Good Times titled "Blood Will Tell". The part of the hospitsl nurse is played by Kathleen Bradley.
About the nurse
Edit
When Sweet Daddy Williams goes into the hospital in need of a blood transfusion, the lovely day nurse which comes on shift to tend to him, she comes into the room while he's watching a soap opera, As The World Turns from his portable TV on his red custom made automated wheelchair; when she suggests that he get out of his "souped-up skateboard", which she calls the wheelchair, get his hospital clothes on and get into bed, the now aroused Sweets, in noticing her beauty, says, ogling her, "Is that an order, or an invitation?". She responds, "Honey, in your condition, it's just a beautiful dream!"
When J.J., who has his same blood type, a very rare U+. whom he gets to be his donor, arrives moments later, he says to J.J. about the nurse, "If I got to go, I want it to be with her!"
Ad blocker interference detected!
Wikia is a free-to-use site that makes money from advertising. We have a modified experience for viewers using ad blockers

Wikia is not accessible if you've made further modifications. Remove the custom ad blocker rule(s) and the page will load as expected.