Noted blaxploitation and action film star Thalmus Rasulala made two appearances on Good Times. He's shown here as Dr. Thomas Gordon in the blaxploitation/horror flick "Blackula" in 1972.
Personal Information
Gender:
Male
Birth name:
Jack Crowder
Born:
November 15, 1939
Birthplace:
Miami, Florida, U.S.
Died
October 9, 1991
(aged 51)
Deathplace:
Albuquerque, New Mexico, U.S.
Career/Family Information
Occupation/
Career:
Actor
Years active:
1962-1990
Related to:
4 children
Spouse(s):
Shirlyn Mozingo (6 November 1984 - 9 October 1991) (his death)
Character information
Appeared on:
Good Times
Character played:
Ernie Harris in "The Houseguest" (Season 2)
Oscar Harris in "Willona's Dilemma" in Season 4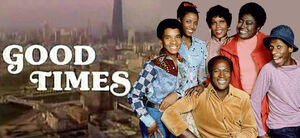 Thalmus Rasulala (born Jack Crowder November 15, 1939 - October 9, 1991) appeared in two different guest roles on Good Times first and most notably as Ernie Harris in the episode titled "The Houseguest" (Season 2, Episode #20), then Oscar Harris, Willona's boss, in the episode titled "Florida the Women" (Season 3, Episode #22).
A tall, lean striking actor with a resonant baritone voice who starred in numerous blaxploitation and action/crime film TV projects, Thalmus also was an original cast member of ABC-TV's soap opera One Life to Live from its inception in 1968 until he left the show in 1970.
Born and raised in Miami, Florida, Thalmus appeared in many films and made guest appearances in TV shows. Notable blaxploitation film roles include Sidney Lord Jones in Cool Breeze (1972), Dr. Gordon Thomas in Blacula (1972) and Robert Daniels in Willie Dynamite (1974); he also was the assistant director of The Slams (1973). On television, he is notable as Skeeter Matthews on Sanford and Son, The Lt. Jack Neal in One Life to Live, Bill Thomas (Raj's father) on What's Happening!!, and Omoro Kinte (Kunta Kinte's father) on Roots. He also appeared on The Twilight Zone, All in the Family, The Jeffersons, Good Times, Star Trek: The Next Generation, and The Sophisticated Gents.
His other film roles include Cornbread, Earl and Me (1975), Bucktown (1975), The Last Hard Men (1976), The Boss' Wife (1986), New Jack City (1991) and his last film role - as General Afir - in Mom and Dad Save the World. He died shortly after completing his scenes, and the film, released after his death, is dedicated to his memory.
Personal/Family life and death
Edit
Thalmus married Shirlyn Mozingo on November 6, 1984. Thalmus died on October 9, 1991, from heart failure in Albuquerque, New Mexico. He was survived by his wife Shirlyn, and their four children.
External links
Edit
Ad blocker interference detected!
Wikia is a free-to-use site that makes money from advertising. We have a modified experience for viewers using ad blockers

Wikia is not accessible if you've made further modifications. Remove the custom ad blocker rule(s) and the page will load as expected.