Louis Gossett, Jr. as Uncle Wilbert, Florida's brother, in "Michael's Big Fall" in Season 3.
Personal Information
Gender:
Male
Age:
????
Occupation/
Career:
Not Mentioned
Character
description:
Visits from Detroit while James is out of town to discover Michael, whose grades are worse than usual, has been fighting a classmate who taunted him because of them
Related to:
Florida Evans (sister)
James Evans Sr. (brother in-law)
J.J. Evans (nephew)
Thelma Evans (niece)
Michael Evans (nephew)
Character information
Appeared on:
Good Times
Episodes appeared in:
"Michael's Big Fall" (Season 3)
Character played by:
Louis Gossett, Jr.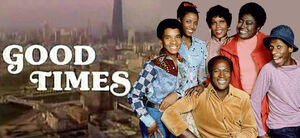 Wilbert Wilson, Florida's younger brother, also known as Uncle Wilbert, appears in the episode "Michael's Big Fall" in Season 3 of Good Times. The part of Uncle Wilbert is played in the episode by Louis Gossett, Jr., who also appears as Donald Knight, a new boyfriend of Thelma's, who's closer to James' age, in " Thelma's Young Man" in Season 1.  
About Uncle Wilbert
Edit
When Michael is suspended from school for fighting a rival classmate named Bobby Jenkins, who taunted him because he got a better report card than him, Wilbert, along with Florida, meets with him and his parents, who drop by the apartment to talk about the incident. Florida, along with the others, maintain that Michael would never resort to fighting, as he "doesn't believe in violence". When Mr. Jenkins threatens to have Michael expelled, Wilbert, who just happened to be visiting from Detroit while James was out of town, and is known to have a quick temper, responds by calling him "Balloon Belly!"
When it's learned by the family that Michael and Bobby were fighting because of Bobby's taunting him for his report card, which were given out the day before, Wilbert and Florida goes to talk to his principal.
Ad blocker interference detected!
Wikia is a free-to-use site that makes money from advertising. We have a modified experience for viewers using ad blockers

Wikia is not accessible if you've made further modifications. Remove the custom ad blocker rule(s) and the page will load as expected.