Violet Bookman, Nathan's wife, in "Bye, Bye, Bookman" in Season 5.
Personal Information
Gender:
Female
Occupation/
Career:
Housewife/Homamaker
Character
description:
Throws her husband out of their home, thinking that he is cheating on her, to welcome him back when it's revealed he's been going to night school in the evening to get his GED
Takes part in a scheme to get Willona and the EVanses, who got other tenants to sigh a petition, to talk to Alderman Davis to get his job back after he was fired from it
Character information
Appeared on:
Good Times
Episodes appeared in:
"Bye, Bye, Bookman" and "Willona, the Other Woman" (both in Season 5)
Character played by:
Marilyn Coleman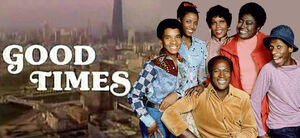 Violet Bookman, the wife of building super Nathan Bookman, appears in two episodes of Good Times, "Bye, Bye, Bookman" and "Willona, the Other Woman" both in Season 5. The part of Mrs. Bookman is played in both episodes by Marilyn Coleman.
About Violet
Edit
nIn the episode "Bye, Bye, Bookman", Bookman and his wife Violet both concoct a scheme to try to get the Evans to help get his super job back after Willona, who's always had an uneasy relationship with Bookman, and who also was the one who alsways derisively called him "Booger", started a petition of complaints for the tenants for his shoddy work in perfomance of his job, as in constant complaints of no running water, leaky roofs, and no electricity or heat in the wintertime, he loses his job. Feigning as if she was going to jump from the Evans' apartment window, on the 17th floor, she showed that she could be just as crafty as her husband, in her attempt to gain sympathy from the Evanses and Willona, who wound up talking to Alderman Fred C. Davis to get him to give Bookman his job back.
In the episode "Willona the Other Woman", Violet becomes suspicious hat her husband, Nathan , who has been going out in the evening secretly, is cheating on her. k. When Willona tries to summon Bookman to her apartment to meet with Violet, she begins thinking that Willona is his mistress, after Willona accidently spills a glass of wine on Bookmans pants, and she hss him take them off to clean them as Violet arrives! Violet then throws Bookman out of the house, as he lied to her when they met in Willona's apartment, actually saying Willona was his mistress! With nowhere to stay he strongarms the Evanses in allow him to stay in their apartment (threatening to evict them if they didn't) until things smooth over.
When another woman appears at the Evans' apartment, a Brenda Gordon, saying that "his mind wasn't on his work", it looks even more suspicious, until Brenda reveals that Nathan has been going to night school, and that she is his teacher, and that they would meet the next evening after class.
When Mrs. Bookman, in seeing Brenda leave as she arrived, becomes even more suspicious, as she threatens to leave him and seek a Mexican divorce!
Finally, Bookman reveals to to, Violet, that the reason why he had been going out on weekday evenings secretly was that he was getting his GDD, as he didn't finish high school, for he had dropped out in the 10th grade.
.

Ad blocker interference detected!
Wikia is a free-to-use site that makes money from advertising. We have a modified experience for viewers using ad blockers

Wikia is not accessible if you've made further modifications. Remove the custom ad blocker rule(s) and the page will load as expected.