Personal Information
Gender:
Male
Career information
Occupation/
Career:
Screenwriter
Years active:
1979-1981
Series involved with:
Good Times
Job on series
Co-Writer, "Cousin Raymond" (Season 6)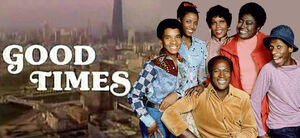 Walter Smith co-wrote the Season 6 episode "[]Cousin_Raymond|Cousin Raymond]" with actor/director Bill Duke. He also wrote the storyline for the episode of NBC-TV's Diff'rent Strokes titled "Where There's Hope".
External links
Edit
Ad blocker interference detected!
Wikia is a free-to-use site that makes money from advertising. We have a modified experience for viewers using ad blockers

Wikia is not accessible if you've made further modifications. Remove the custom ad blocker rule(s) and the page will load as expected.