Warren, as played by Fred Scott
Personal Information
Gender:
Male
Occupation/
Career:
Auto mechanic
Character
description:
Poses as a worker for the Food Administration Office in helping Florida and James get even with Mr. Gage, the manager of Borgan's Supermarket after the family got sick eating some bad roast beef for dinner the night before
Character information
Appeared on:
Good Times
Episodes appeared in:
"Florida's Protest" (Season 3)
Character played by:
Fred D. Scott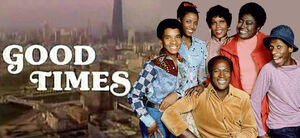 Warren Coggins, a friend of the Evanses, appears in the Season 3 episode of Good Times titled "Florida's Protest". The part of Warren is played in the episode by Fred D. Scott.
About Warren
Edit
When Florida gets arrested for leading a group of protesters outside of Borgan's Supermarket after she and the family got sick after eating dinner which the main course was some of the store's tainted roast beef, she and James decide to pay the market's manager, Mr. Gage (Lester Wilson) to tell him how they feel about getting food poisioning from the bad beef, and about all the other problems with the stores offerings.
Instead of James making good on his threat to Gage to stretch him out about the frozen foods section, they devise another idea to bring a little dinner gift for Gage to pose as if they were apologizing for their angry visit the other day, as still had some leftover roast beef from the other night. This time, they brought along a friend of theirs, Mr. Coggins, supposedly from the "Food Administration Office".
As they reveal the true nature of their return visit, and that the dinner gift they brought contained meat from the supermarket he tries to make an excuse not to eat the dinner, when Coggins prepares to eat it himself, to, as he says, "to give me something to report down at the Food Administration Office!" Gage abruptly stops him, and reluctantly takes a bite of the roast beef himself, as the Evanses get "revenge" on his duplicitousness in interacting with them, as well as the bad food items in the store!
After they leave the office, Warren tells them "I've got to get back to work... cause this "Food Administration Office" jive has made me late for my real job at the garage!" as they all had a big laugh in making Gage eat crow...or in his case... bad beef!
Ad blocker interference detected!
Wikia is a free-to-use site that makes money from advertising. We have a modified experience for viewers using ad blockers

Wikia is not accessible if you've made further modifications. Remove the custom ad blocker rule(s) and the page will load as expected.