Yvonne (Ta-Ronce Allen) and Michael in scene together in "Michael's Great Romance" in Season 4.
Personal Information
Gender:
Female
Character
description:
Girlfriend of Michael's during Season 4
Develops a crush on J.J. upon meeting him, which upsets Michael, who has a crush on her
Character information
Appeared on:
Good Times
Episodes appeared in:
2 in Season 4
Character played by:
Ta-Ronce Allen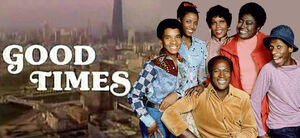 Yvonne, a girlfriend of Michael's, appears in two Season 4 episodes of CBS-TV sitcom series Good Times, "Michael's Great Romance" and "A Friend in Need". The part of Yvonne was played in the episodes by then-teen actress Ta-Ronce Allen, whose dad, Raymond Allen, also appeared on the series in the recurring role of Ned the Wino.
About Yvonne
Edit
In her first appearance in the episode "Michael's Great Romance", Yvonne, a classmate of Michael's, drops by the apartment to meet the family. She then falls for J.J., as she is impressed by his "chivalry" as he unitentionally lays some "smooth talk" on her (as he does with any pretty female he meets!), and kisses her hand when greeting her as she says "You sure know how to treat a girl!" A now angry Michael, who has a crush on her, then promtly punches J.J. in the stomach!
After Florida has a little talk with Michael about his approach in talking to Yvonne with some "smooth talk" of his own, he starts apologizing to J.J. and attempts to impress Yvonne, who drops by the apartment again, this time to apologize for ignoring him when she met J.J.; although she's impressed with J.J.'s smooth talk, she found it to look "stupid" on Micheal when he tries to do the same as his brother! When Yvonne tells him to be himself, and she likes him as he is, the two become an item, as she stays and has dinner with the family!
Ad blocker interference detected!
Wikia is a free-to-use site that makes money from advertising. We have a modified experience for viewers using ad blockers

Wikia is not accessible if you've made further modifications. Remove the custom ad blocker rule(s) and the page will load as expected.